Palmer/wasilla,
Alaska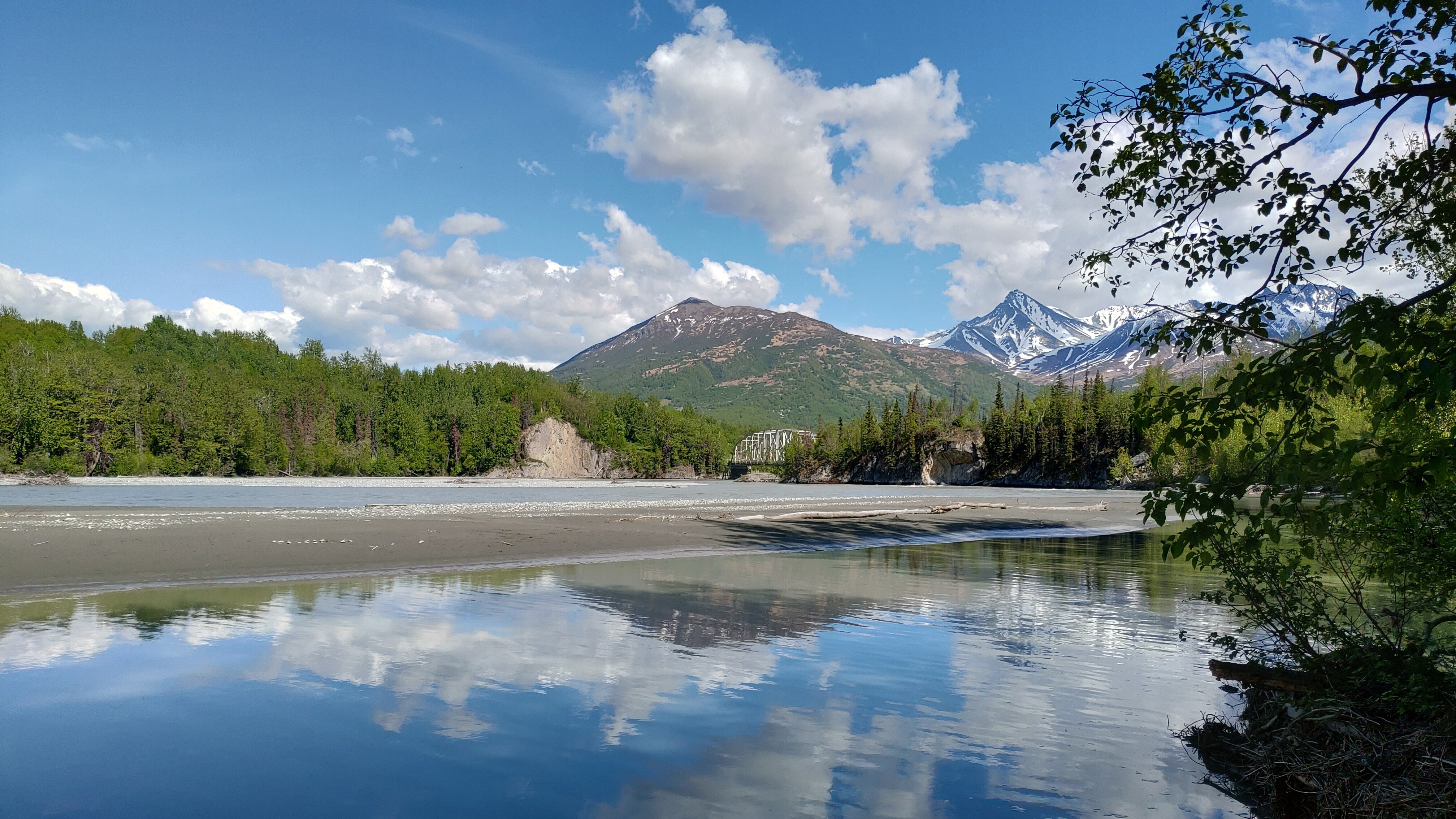 (Matanuska River, Palmer © 2020 by Eliana Marin is licensed under CC BY 4.0 )
The Matanuska-Susitna Valley, or "the Mat-Su Valley," is possibly the most popular place to live in Alaska. The raw beauty is so prevalent that there is no wonder as to why the Mat-Su Valley is one of the fastest growing areas in the nation, with approximately 100,000 people. Not only is the area surrounded by lush, green mountains, but there are also the Knik and Matanuska glaciers that provide dozens of streams which draw all kinds of wild life to the area. Residents see moose and bear crossing roads or foraging regularly.
You can either find real estate within Palmer or Wasilla or build your own home in the woods to get the solitude you desire. Those that live in Mat-Su often see only a few houses poking through the trees or none at all. The land and real estate is more affordable, with the largest amount of new construction. Real estate is often tens of thousands of dollars less than in Anchorage, and the drive is only about an hour away when the weather is nice. Thousands of residents choose to live in the Mat-Su and commute to Anchorage or surrounding towns, finding the valley more than worth the drive to work. While having the highest ranked school district in the state, with an enrollment of 17,800 students, and 45 school it is second only in size to the Anchorage School District.
With such a vast amount of land, locals never lack for something to do. Whether it's hiking, fishing, watching wildlife, hunting, rock climbing, riding horseback, snow mobiling, four wheeling, or simply appreciating such untouched space, you'll always have something to enjoy. Mt. McKinley, the largest mountain in North America, is an ever present wonder, visible from nearly every part of the Mat-Su Valley when the weather is clear.
Winters are an experience alone. The Aurora Borealis are even more visible due to the lack of city lights, leaving inhabitants in awe of their majesty. Snow mobilers have hundreds of acres to explore in Mat-Su compared to Anchorage, which has some limits on where snow machines can go. Skiing at beautiful Hatcher's Pass is also a major outdoor activity. Every year many locals gather for the Iron Dog, a 2,000 mile snowmobile race from Wasilla to Fairbanks. Some residents even participate in the Iditarod.
The towns of Wasilla and Palmer both have public schooling and tons of small town amenities perfect for those trying to find a more country lifestyle and small town feel. If you're looking to raise a family in a wonderful community, live on the edge of the outdoors, or are looking for a quiet and excellent place to retire, then the Mat-Su Valley is the perfect place for you.
---